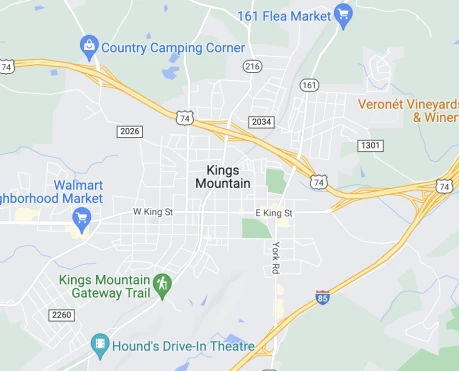 If you or a loved one has been hurt in an accident someone else caused, you could recover compensation in a personal injury lawsuit. You could face high medical expenses and other losses after an accident or another type of personal injury resulting from negligence. Those injuries can also cause you to lose the income you need to pay your bills.
Farmer & Morris Law, PLLC, represents personal injury accident victims in Kings Mountain. We may be able to help you recover compensation in your case. We offer free case evaluations to help you understand your legal options and how our lawyer serving Kings Mountain can help you. We may be able to represent you on a contingency fee basis with no upfront costs to start your case.
Recoverable Damages in a Kings Mountain Personal Injury Case
The amount of compensation you could recover in your injury case will vary greatly on a case-by-case basis. Accordingly, it is challenging to estimate what amount you could recover in your case without a direct consultation with our legal team. In general, factors that determine your case's worth include:
How severe your injuries are

The degree to which you experienced physical and mental pain and suffering

How long your recovery period will be, including how much time you will miss from work
When we meet with you, we can discuss what types of losses may be available to you. After we review the extent of your injuries and losses, we can then determine a dollar amount. Our personal injury lawyer serving clients in Kings Mountain can work toward recovering damages on your behalf.
Economic Damages
Recoverable economic damages include any monetary damages that have a verifiable dollar amount. These can be proven with receipts, invoices, statements, and other documentation:
Current, future, and past medical bills

Loss of wages and benefits (known and current)

Reduced earning ability due to your injuries

Lost, damaged, or destroyed property

Other damages your case evidence supports
Non-Economic Damages
Non-economic damages, those damages with no dollar amount, that you could recover are:
Pain and suffering

Mental and emotional anguish

Partial or total loss of a body part

Disability and disfigurement

Permanent injuries
We will review the damages you have to see which categories they fall into and discuss the compensation that you could pursue. We may also find other damages you could pursue based on the evidence in your case. Once we look at all your damages, we will be able to better estimate the value of your case. From there, we will notify the liable party of your demand to recover damages.
Wrongful Death Damages
If you lost a loved one who died from their injuries, you could qualify for wrongful death damages. We will let you know who can pursue damages on behalf of the decedent's family under state law. If the family is awarded compensation, it can be used to cover:
The decedent's final medical expenses

The costs of their cremation, funeral, burial

The loss of their financial contribution to the household

Mental and emotional suffering

Loss of consortium, guidance, and companionship
You may be able to recover damages not listed here. Our lawyer can take a look at your situation to assess if filing a wrongful death action is the appropriate route for you.
For a free legal consultation with a personal injury lawyer serving Kings Mountain, call 828.286.3866
How Our Kings Mountain Lawyer Could Handle Your Personal Injury Case
When a person's negligence harms someone, the negligent person can be found at fault or liable for the injuries they caused. Under North Carolina's negligence laws, those who are at fault may be required to compensate the victim.
Our team of personal injury attorneys can work with you on your claim or lawsuit by:
Managing your case: This includes all deadlines in your case, essential legal paperwork, and communications with all parties. When you become our client, we will manage every aspect of your case. We will be available to answer your question, discuss possible outcomes throughout your case, and update you on all developments.

Investigating your case: We will gather evidence and examine it thoroughly, including accident reports, photographs, witness statements, and medical reports. We will not ask you or your family to take on the time-consuming task of collecting evidence. Instead, we handle this for you and build the strongest possible case file on your behalf.

Consulting with experts: We will hire experts with knowledge in workplace safety, accident reconstruction, and other areas to testify in your defense, if necessary. We also will consult with professionals in the medical field who can give us an informed opinion.

Filing your claim: We will file your claim with the at-fault party's insurance company, including completing and submitting insurance claim forms. If necessary, we will pursue litigation in court for your claim by filing a car accident lawsuit.
Kings Mountain Personal Injury Lawyer Near Me 828.286.3866
We Have Helped 10,000+ Clients Recover From Personal Injuries
Farmer & Morris Law, PLLC, strives to provide legal representation that meets our clients' needs. We help them in any way we can to protect their rights and help them receive the outcome they deserve. We have helped thousands of clients in North Carolina and South Carolina seek recovery in their cases. We accept the challenges of every case, no matter how big or small it is.
Our Google Reviews rating is 4.9/5 based on more than 150 reviews. Our clients have the following to say about us:
"I'm so glad I went to these guys for help! They were on it! They helped me resolve my issue. I should have went to them sooner. Easy to talk to and you can tell they really care about people. I appreciate all you guys, all the hard work and being so prompt." – Russell Mitchell
"What a great firm. I highly recommend Farmer & Morris. I felt comfortable and taken care of. I will take any legal problems I have to them. Thank you so much for all your help and caring." – Heidi Towns
"My experience with Farmer and Morris Law was excellent. I needed their help on different occasions and, their experienced attorneys and friendly staff made sure I had the best service. They demonstrated professionalism and personal attention to all details concerning my case. Farmer and Morris exceeded all my expectations and I highly recommend them." – Erica Coracini Ferreira
We are passionate about what we do, and we want to help you with your personal injury matter. We can talk with you more about your injury case during a free consultation. We can answer any questions you have about how our lawyer serving Kings Mountain can help you take legal action.
North Carolina's Statute of Limitations for Personal Injury Cases
According to North Carolina's statute of limitations, personal injury plaintiffs face limits on how long they can file a civil lawsuit in civil court after an injury. Per G.S. § 1-52, victims have three years from the injury's date to file their legal action. If you are pursuing a wrongful death action, you have just two years, per G.S. § 1-53.
Failing to submit your case within either of these time frames could mean our personal injury attorney would not be able to file your lawsuit. If the court does not receive your action within those three years, the defendant can file a motion to dismiss the case and not pay you any compensation for your losses.
We work hard to help you avoid these costly consequences. The sooner you put our law firm to work on your Kings Mountain, NC case, the better. Early intervention means we can visit the accident scene and surrounding area. It also means we can locate and interview witnesses while their memories are vivid.
We Can Help You Figure Out How Much Time You Have Left to File Your Case
Understanding the statute of limitations with its possible exceptions can make compliance difficult on your own. Our personal injury lawyer can discuss the legal time limits pertaining to your case in Kings Mountain when you meet with us during your free consultation.
We can let you know if you have more or less time to file based on any exceptions that may apply to your case. Possible exceptions can include the age of the injured party and certain actions taken by the at-fault party.
Complete a Free Case Evaluation form now
Establishing Liability and Negligence in a N.C. Injury Case
When your personal injury lawyer is working with you on your claim, they will help you prove the following elements:
The defendant owed you a duty to act or refrain from committing an act.

The defendant is in breach of this duty.

The plaintiff suffers from injuries as a result of this breach.

The defendant's action or inaction was the cause of the injury, and the defendant should have known that the action or inaction could have resulted in injury.

The plaintiff suffered actual damages, such as loss of income or medical expenses, among other damages.
Personal Injury Cases Farmer & Morris Law, PLLC, Handles
Farmer & Morris Law, PLLC, represents victims in various personal injury cases, including:
Truck accidents

Dog bites

Other injuries
There are other circumstances that could lead to a personal injury lawsuit. If you were injured in any situation due to another party's negligent behavior, Farmer & Morris Law, PLLC, offers a free consultation that can help you consider your next legal steps.
We are in Your Corner and Ready to Advocate for You
If you or a loved one suffered a personal injury as a result of another party's negligence in Kings Mountain, you may be able to recover compensation in a personal injury case. Farmer & Morris Law, PLLC, may be able to represent you. You will pay no money upfront if we take your case. You will owe us no attorney fees unless we secure compensation for you.
While you concentrate on your recovery for an initial consultation, our firm can explain the steps we take to pursue compensation on your behalf. Call us at (828) 286-3866 to get started on your case.
Call or text 828.286.3866 or complete a Free Case Evaluation form