Whether you are going through a divorce, seeking assets after a separation, or trying to work out child custody, having a Forest City family law lawyer on your side can help promote a peaceful resolution. An attorney can act as a mediator, help you fight for custody of your child, or negotiate alimony.
Farmer & Morris Law, PLLC can help you manage your case that acts in accordance with North Carolina law. Whether you come to a pre-trial mutual agreement with your spouse or have to take your case to court, we can represent you and the rights of your children.
To find out more about our legal services, call (828) 286-3866 for a free case assessment.
Family Law Cases We Can Manage
When navigating the legal system, you likely want an attorney who understands the court system and legal precedent. At Farmer & Morris Law, PLLC, we understand both.
We take on family law cases relating to:
Separation agreements
Divorce
Child custody
Child support
Property distribution
Post-separation support
Alimony
Domestic Violence
Adoptions
Premarital Agreements
Regardless of your current situation, we can review your case, go over your options, and guide you through the legal process. We can also ensure that you understand North Carolina law so that you do not make any mistakes that could adversely affect your case.
Our Family Law Practice Areas
Ideally, you want an uncontested divorce where both spouses are in mutual agreement about how to handle the separation, assets, and child custody. However, if you are going through a contested divorce, you may find that issues between you and your spouse can complicate the proceedings. Our attorneys understand the challenges of filing for a divorce.
We provide legal support, consultation, and representation in divorce matters such as:
Separation Agreements
A separation agreement is a legally binding contract between you and your spouse. The agreement contains all matters that are relevant to your situation, including the division of marital property, child visitation, and alimony. Our lawyers can draft a separation agreement that you and your spouse can agree on together. If successful, you may not have to fight for certain rights in court.
Property Distribution
If you are having difficulty deciding the division of assets or property, our law firm provides mediation and other legal services. We can help you work toward a fair, equitable distribution. Our lawyers can assess your income, debts, property, taxes, and other factors to determine what part or percentage of the property you should receive.
Post Separation & Alimony
We can represent you when you are trying to negotiate alimony or trying to arrange a post-separation agreement. Our lawyers can work to get a settlement that fits within your financial circumstances. We will take the time to assess your situation, explain North Carolina's alimony guidelines, and advise you on your options.
To get started with your case, call Farmer & Morris Law, PLLC at (828) 286-3866.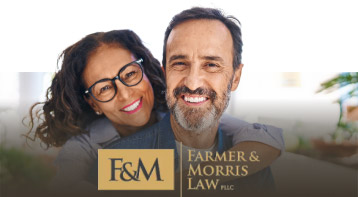 Our goal is excellence in legal representation, in every case, with every client and at every stage.

Contact Our Firm Today »
We Are Committed to Protecting Your Children
Protecting your children during a divorce proceeding is paramount, as it involves looking out for their welfare and preserving their relationship with you. North Carolina has strict laws regarding custody and child support after a divorce. Our law firm can help you understand these mandates.
We can help you in the following situations:
Child Custody
Your child is granted certain protections under North Carolina law. One of these rights, under §50-13.01(3), states: "It is the policy of the State of North Carolina to encourage programs and court practices to reflect the active and ongoing participation of both parents in the child's life and contact with both parents when such is in the child's best interest, regardless of the parents' present marital status."
As the parent of your child, you have the right to make certain decisions regarding their welfare. Our firm can assist you in getting a fair custody arrangement for both you and your children. We look at issues surrounding your case to determine our legal strategy. A Forest City family law lawyer will seek to protect your parental rights, whether in or out of court.
Child Support
Under §110-129, how much a parent pays for child support is calculated on a variety of different factors.
Some of these elements (including but not limited to) are:
Healthcare and insurance costs
Income, both essential and disposable
Daily child living expenses
If a parent is already paying child support from another relationship
We can help you negotiate child support rates with the other parent and make an agreement that does not disproportionately affect your financial stability. A Forest City family law lawyer from Farmer & Morris Law, PLLC, can explain more about your parental rights.
Services Our Team Provides
In some situations, two parties are able to reach agreements without legal counsel. Other scenarios can be rife with emotional tension and conflict. Regardless, our team at Farmer & Morris Law, PLLC can help. We can help you reach agreements in writing so that they cannot be violated later on.
There are several other ways that we can assist you with your case, including:
Gathering evidence to support your case
Processing legal paperwork and relevant documents
Speaking with witnesses who testify on your behalf
Providing legal counsel to help you make hard decisions
Fighting for your personal and parental legal rights
We can formulate a legal strategy that takes both you and your children's best interests into account. We can act as a mediator between you and your spouse. If that option is not available, then we can take your case to court. From there, our lawyers can represent you during litigation and represent your interests.
Call Farmer & Morris Law, PLLC For a Free Case Review
If you need legal assistance from a family law attorney, the team at Farmer & Morris Law, PLLC wants to get started on your case today. We offer legal services to clients involved in divorce, child custody, and child support cases. To get started, call (828) 286-3866.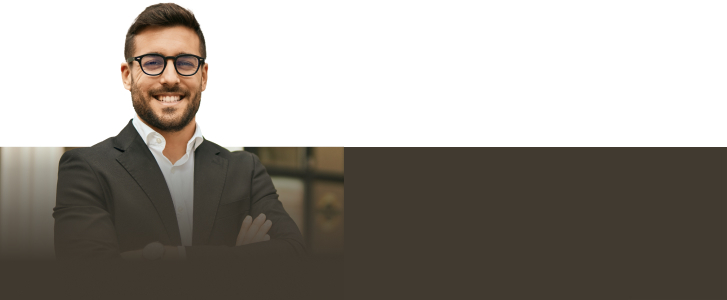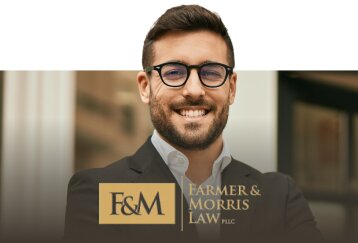 Contact our team today so we can fight to help you get the compensation you deserve.

Contact Our Firm Today »