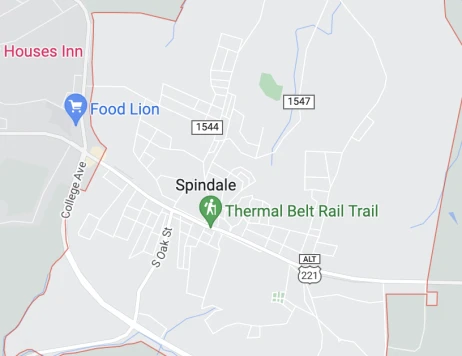 Whether you were injured by a car accident,
dog bite, or workplace injury in Spindale, N.C., our team at Farmer & Morris Law, PLLC, is here to help. We understand how detrimental these situations can be to your personal, professional, and financial stability. A Spindale personal injury lawyer from our firm wants to take legal action on your behalf.
Right now, you may be recovering from an accident-related injury or helping a loved one heal from theirs. Either way, if there is evidence to establish that the accident was due to another party's negligence, we can help you seek recovery for your losses. If you're ready to learn more about our services and your potential financial recovery, we have a team member standing by to offer a complimentary consultation.
Services You Can Expect from Our Personal Injury Team Serving Spindale, N.C.
At Farmer & Morris Law, PLLC, we have empowered more than 10,000 clients to hold negligent parties responsible and seek justice in their personal injury cases. We have four offices across two states where we provide clients with legal representation. This includes our Rutherford County office and other locations in the Triad.
We may also be able to help you pursue compensation and recover damages for the injustice you experienced. To promote your case's success, some of the services that we can provide include:
Taking legal action promptly

Identifying all liable parties and notifying them of your intention to take legal action

Handling all communications with the involved parties, including insurance companies and legal teams

Completing and submitting paperwork by all appropriate deadlines

Investigating the details of the incident that caused your injuries

Estimating the cost of your economic and non-economic damages

Negotiating for a settlement that represents the scope of your losses

Advising you as you make crucial decisions in the case

Taking the case to court, if necessary
Our Spindale personal injury lawyer will do all these things for you. You may worry about how your financial situation will affect your ability to hire our personal injury attorneys and gain our legal support. However, our team never wants attorney's fees to prevent potential clients from seeking justice and compensation.
Our Services Will Cost You Nothing Upfront
We work on a contingency-fee basis, which means that we do not collect any attorney's fees until the successful resolution of your case, whether that is before a judge or an out-of-court settlement. If we are unable to deliver a court award or settlement, you owe us no lawyer's fees.
Even when we win a case, we take our fee as a percentage of the damages recovered. You can discuss this fee arrangement further when you reach out for a free consultation. We will be glad to answer any questions you have and speak transparently about our fees.
We Have a Positive Track Record with Our Clients
Many of our clients provide us with feedback in the form of reviews and testimonials, and we are proud of the things they have to say about our attorneys, team members, and firm. We strive to always put our clients' best interests first, and their testimonials allow us a way to gauge our success.
Some recent reviews include:
"After I was involved in a serious car accident I knew, with the injuries I sustained, I needed great lawyers to walk me through this arduous process. Hannah Davies and Mark Morris worked very hard to take us through the process and ultimately settlement." – Tammy C.

"What a great firm. I highly recommend Farmer & Morris. I felt comfortable and taken care of. I will take any legal problems I have to them." – Heidi T.

"Communication was great and explained things in a professional way. The outcome exceeded my expectations." – Don D.
You can read further testimonials from other clients we've helped here. At some point, each of them was right where you are – trying to make the right decision about hiring an attorney and moving forward with their personal injury case. We are honored they chose our team to represent them through this process.
For a free legal consultation with a personal injury lawyer serving Spindale, call 828.286.3866
Recoverable Damages in a Spindale, N.C., Personal Injury Case
You may be facing significant financial strain because of your injuries. If your case is successful, you could recover compensation for your:
Medical expenses, such as corrective procedures or emergency care

Rehabilitative treatment, including physical therapy and mental health counseling

Lost wages during your recovery period

Reduced earning capacity if you cannot return to work at full capacity or at all

Property damage

Pain and suffering

Impaired quality of life

Psychological distress
We will work on accounting for each type of damage you experienced because of another party's negligence. We know the common losses victims usually incur and can check to see if you had expenses or losses in each of these categories. For example, some people have additional property damages in addition to their vehicle following a car wreck. Did you need to replace your eyeglasses or cell phone? We can account for this in your case.
Calculating the Value of Your Damages After Your Wreck
When our team reviews your case, we will divide your damages into items that have a tangible economic value and those that apply more to the emotional aspect of your losses.
Doing so is important for several reasons. First, it makes it easier for us to calculate the case's value. Economic damages come with financial values attached, meaning we can use your bills, receipts, invoices, and other documents to add them up. Meanwhile, non-economic damages require the use of formulas or other methods to assign value to them.


Second, North Carolina has a statutory cap on the amount of non-economic damages you can collect in medical malpractice cases, under G.S. § 90-21.19. This will affect how we calculate the value of your potential settlement or award if your injuries or advancing illness occurred because of a medical professional's negligence. This cap does not apply to other types of claims, including pool injuries or car wrecks.
Spindale Personal Injury Lawyer Near Me 828.286.3866
Our Team Must Prove Negligence in Your Spindale Injury Case
The outcome of your Rutherford County, N.C., personal injury case will essentially rest on our lawyer's ability to prove that the party responsible for your injuries acted negligently. North Carolina is a contributory negligence state, which means you cannot be at fault in the accident case if you want to recover compensation from the other party for your injuries.
To get you the compensation you need, our legal team must establish:
The liable party had a duty of care to take reasonable actions that would not harm others.

The liable party, intentionally or not, violated this duty through their action or inaction.

The liable party's actions contributed to the accident in which you were injured.

You have suffered injuries, expenses, and other damages, all related to the wreck.
We will need to investigate the circumstances of the case and collect evidence to establish each of these elements. Because of the state's contributory negligence law, we must build a strong case to show that the liable party is fully at fault or shares fault with another third party. In addition, we must eliminate any possibility that they can challenge our claim by saying you had a hand in causing the wreck, incident, or resulting injuries.
While we get to work advocating on your behalf, there are certain measures you can take to promote your case's success. Our team can offer additional advice as we build your claim and move through the claims process, as well.
Steps to Take After You Have Been Injured in a Wreck in Spindale, N.C.
The following steps do not guarantee compensation; however, in the long run, they can work to your advantage when filing an insurance claim or lawsuit:
Seeking Prompt Medical Attention
After an accident in the Spindale area, your physical health should be among your top priorities. After visiting with a medical professional, you should keep all documents relating to your care, including imaging scans, lab results, and prescribed medications. We can help you obtain your medical records if they do not provide you with a copy.
If you do not seek medical attention following your accident, the other party could argue that:
Your injuries were not caused by the accident in question.

You aggravated your injuries by not seeking medical attention.

Your injuries have not affected your quality of life to the extent that you claim.
If you were injured while on the job, you may have a limited time to seek treatment or else risk jeopardizing your workers' compensation claim, as well. When you call Farmer & Morris Law, PLLC, we can explain in further detail what this could mean to your individual situation.
You May Not Want to Speak to Insurance Companies Without a Lawyer
The involved insurance companies will likely contact you offering a fast settlement following your injuries. This approach is designed to keep you from getting legal representation, understanding what your case is worth, and pursuing litigation. Many times, insurance companies will purposefully offer you a settlement that does not cover the cost of your damages, hoping that you do not yet know the exact value of your losses.
When you work with a personal injury lawyer from our team, we will likely advise you to avoid making any statements regarding your injuries and direct any communications to us. We will examine the scope of your economic and non-economic damages and then negotiate for an appropriate settlement offer. If the insurance company does not agree to these terms, then our legal team can potentially take the case to trial.
Acting Within North Carolina's Statute of Limitations
Under G.S. § 1-52, you generally have three years from the date of your accident to file a personal injury lawsuit in North Carolina. This legal deadline is known as the state's statute of limitations. Missing this deadline could mean the Rutherford County civil courts will bar us from moving forward with a lawsuit, making it difficult or impossible to recover fair compensation in the case.
We encourage you to act quickly; our team wants to give your case the attention to detail that it needs and protect your right to hold the at-fault party responsible.
Complete a Free Case Evaluation form now
Call Farmer & Morris Law, PLLC, Today
No matter how your accident happened or the severity of your injuries, our team at Farmer & Morris Law, PLLC, wants to hear from you. We have offices in multiple locations throughout North and South Carolina, including Rutherfordton, Spartanburg, Morganton, and Shelby. Our Rutherfordton location serves Spindale and other nearby communities.
We want to hear about your personal injury case today. To get started with a free case review, call Farmer & Morris Law, PLLC, at (828) 286-3866 . During this call, we can discuss your legal options and outline the next steps for moving forward.
Call or text 828.286.3866 or complete a Free Case Evaluation form